Chronologically from 1975:-
* Dreaming of Glenisla: Talisker,Virgin
* Land of Stone: Talisker, ECM, Munich
* The Last Battle: Talisker, View,Berlin
* The White Light: Talisker, View,Berlin
* Humanity: Talisker, Impetus
* Under the Influence: The Big Team, Konnex, Berlin
* Fanfare For Tomorrow: Dick Gaughan/Ken Hyder, Impetus
* Shams: Tim Hodgkinson/Ken Hyder, Impetus
* The Goose : Hodgkinson/Hyder/Ponomareva, Megaphone (US), Woof
* Piping Hot : Dave Brooks/Ken Hyder, Silly Boy Lemon Records
* The Crux of the Catalogue : Tomas Lynch, Linecheck Records
* Hot Sounds from the Arctic : Vladimir Rezitsky, Leo records
* Roots Run Deep : Chanter, Twang Dynasty Records
* Bringing It All Back Home : Bing Selfish, Out of Depression Records, Zurich
* Urban Ritual : Tshisa! , Slam Records
* The Ultimate Gift : Bardo State Orchestra, Impetus Records
* Wheels Within Wheels : Bardo State Orchestra – with Tibetan monks from the Shechen monastery, Impetus records
* Stillness in the Solovki : Northern Lights, Long Arms Records, Moscow
* The Known Is In The Stone : Hyder with Nicols / Brooks, Impetus Records
* Burghan Interference: Shams – Tim Hodgkinson/Ken Hyder – Slam Records
* Golden Years of the Soviet New Jazz Vol 2 : Vladimir Rezitsky, Leo records
* Bear Bones: K-Space – Tim Hodgkinson/Ken Hyder /Gendos Chamzyryn – Slam Records
* Duets – Volume One: Ken Hyder/Bret Hart – InstrumenTales Masterdisc Library, USA
* Counting on Angels: Ken Hyder /Vladimir Miller –
Slam Records
* We See Us In The Next Future: The Dynamix – Konnex Records, Berlin
* Going Up: K-Space – Tim Hodgkinson/Ken Hyder /Gendos Chamzyryn – Ad Hoc Records
distributed by RECOMMENDED
* Dreaming of Glenisla – Talisker – re-release by Reel Recordings, Canada
* Infinity : K-Space – Tim Hodgkinson/Ken Hyder /Gendos Chamzyryn – Ad Hoc Records USA distributed by RE
COMMENDED
* Raz3 – Lu Edmonds, Tim Hodgkinson and Ken Hyder
* In The Shaman's Pocket – RealTime – z'ev, Andy Knight, Scipio, Ken Hyder – Ayler Records
* Life And Death – Hoots and Roots – Maggie Nicols and Ken Hyder – Ayler Records
* Ghost Time – z'ev, Andy Knight, Ken Hyder – Hinterzimmer Records
* Black Sky – K-Space – Setola Di Maiale
* Angel Ontalva and the Shamfonk Rhythm Section with Scipio mini-CD
* Talisker – with Paul Rogers, bass and Ted Emmett, trumpet is one of several bands on this sumptuous boxed set based around the 1981 Peitz festival which was held in the old East Germany.
You can get it here.
* Cold Warm, with Vladimir Miller, piano, Eastov Records.
Many of these records/CDs are distributed by Impetus Records, and Recommended – most are available on Amazon.
* Limited edition La Dolce Visa CD Passport to Paradise – with Piero La Rocca and Scipio on Attenuation Circuit records.
DUBBLETHUD – with Bret Hart and mainly US musicians.
https://spectropolrecords.bandcamp.com/album/dubblethud-music-for-home-recordist-and-guests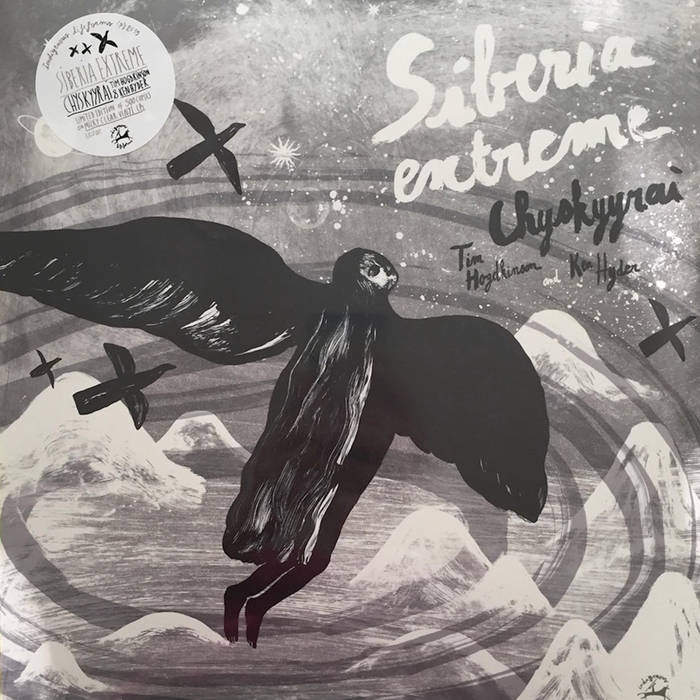 Album from a trio of Siberian singer Chyskyyrai, Tim Hodgkinson and myself. Generating great reviews. Check it out – and buy it – here.
La Dolce Visa, recorded in Sicily with Piero La Rocca, and one of the youngest musicians I have played with – his toddler daughter who called herself Ya Ya. Listen/buy here.
BUTCHER'S WOOD – with myself, Tim Hodgkinson, Jason Kahn and Paul Khimasia Morgan. It's an unusual performance recorded in a wood with leaves rustling, and birds joining in. Have a listen, read more details and how to buy it HERE
.